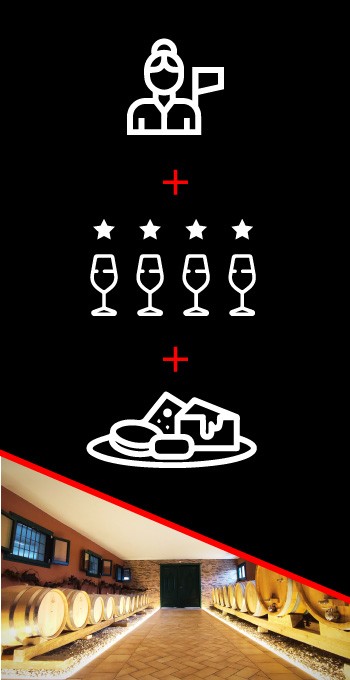 LE RISERVE DI GIAN
Experience an experience package that will make you discover all the secrets of Ca'Vescovado thanks to a guided tour of the Cellar and a tasting of Reserves accompanied by a platter with local cheeses and cold cuts or meat tartare (by reservation).
Let yourself be enveloped by the spicy and vanilla hints of Rosso Igt Veneto Vescovado and then move on to the warm and round flavor with fruity notes and intriguing hints of vanilla, coffee and cocoa from Refosco d.p.r. Igt Veneto "Bronte" Cason Brusà. Followed by the Cabernet Sauvignon Igt Veneto "Telemaco" Cason Brusà with a sweet spice flavor and vanilla aroma. The finish will be intense and elegant thanks to the notes of ripe berries that blend with spicy and vanilla aromas resulting from the aging in wood of Cason Brusà Rosso Igt Veneto "2310 Vitae".
Book your tasting with guided tour!
* GUIDED TOURS ONLY ON RESERVATION. Payment on the spot. The price is per person.
Kindly request a reservation with a minimum of 8 business hours notice to receive confirmation and acceptance of the reservation.
Reservations without confirmation via email from CaVescovado will not be considered confirmed. In the event of non-confirmation, we kindly ask you to contact us at +39 0421 564562.
Duration: 75 min.
Minimum Partecipants: 1
Price: €45
Book Tour
Select the date and the'hour of the winery visit and the number of partecipants