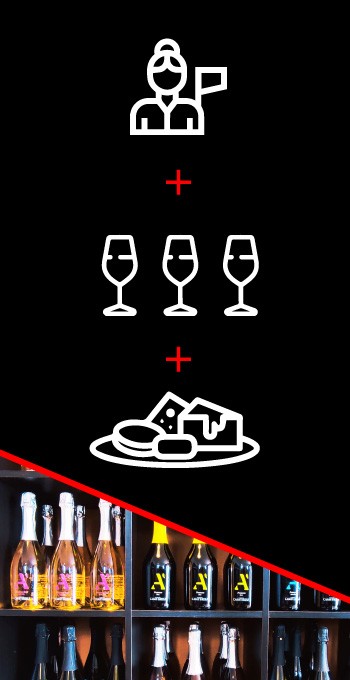 LA FAVORITA
Let us guide you inside our Ca'Vescovado cellar where you will taste three glasses of wine and a platter with cheeses and cold cuts from our territory.
Your tasting will begin with Cason Brusà Prosecco DOC Spumante Extra Dry with aromas of acacia and peach flowers accompanied by fresh fruit, such as green apple and Williams pear; this will be followed by a tasting of Traminer Igt Veneto Vescovado which will impress you with its rich and intense aromatic bouquet of flowers and tropical fruit accompanied by fresh citrus notes. The tasting will end with the notes of cherry, plum and raspberry of the Merlot Vescovado.
Book your tasting with guided tour!
*GUIDED TOURS BY APPOINTMENT ONLY.
Payment on the spot. Price for one person.
Kindly request a reservation with a minimum of 8 business hours notice to receive confirmation and acceptance of the reservation.
Reservations without confirmation via email from CaVescovado will not be considered confirmed. In the event of non-confirmation, we kindly ask you to contact us at +39 0421 564562.
Duration: 75 min.
Minimum Partecipants: 1
Price: €30
Book Tour
Select the date and the'hour of the winery visit and the number of partecipants